A First in Hernia Surgery for Georgia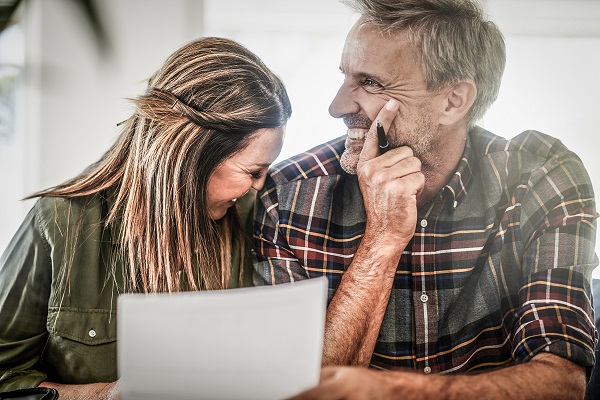 As Georgia's first accredited Hernia Surgery Center of Excellence, Northeast Georgia Medical Center offers you access to the most advanced robotic and minimally invasive surgical techniques for hernia repair – right here at home. Our team of experienced surgeons are nationally recognized by the Surgical Review Corporation for their commitment to improving the quality of care for patients who undergo hernia surgery.
What this means for you
Northeast Georgia Medical Center Gainesville's team of experienced hernia surgeons, led by Drs. Chad Copper and Ron Lewis, are among an elite group of surgeons nationally recognized for their commitment to improving the quality of care for patients who undergo hernia surgery. You can trust that you will receive the highest quality care possible when choosing NGMC for your hernia repair.
The surgeons at The Hernia Center have performed nearly 6,500 minimally invasive hernia repairs and more than 2,000 robotic hernia repairs using the da Vinci surgical system.
Robotic hernia repair utilizing the da Vinci Surgical System is changing the experience of surgery for patients. Through cutting-edge technology, more complicated procedures can be performed through smaller incisions providing patients a faster recovery with less pain.
For you, this means cutting-edge, high-quality care from an experienced, caring team of providers – close to home.
Patient Stories
Questions as you consider hernia repair surgery
What are the differences in surgical hernia repair treatment options?
In most cases, Northeast Georgia Medical Center surgeons use minimally invasive techniques, such as robotic hernia repair or laparoscopic hernia surgery to repair hernias.
Minimally invasive hernia repair treatments include:
Robotic hernia repair
During robotic surgical hernia repair, your surgeon will perform the hernia repair through a series of small incisions. Your doctor will insert a laparoscope into the affected area to see inside the body, and the abdomen will be inflated. The images from the laparoscope will be projected onto a television screen.
Once your surgeon has accessed the affected area, he or she will sit at a computer console in the operating room and will handle the robotic surgical instruments from the console. The robot can provide 3D images inside the abdomen, compared to 2D images from laparoscopic surgery. The robot helps the surgeon easily stitch and sew tissue and mesh into the abdomen wall.
Laparoscopic hernia repair
Laparoscopic hernia repair is a minimally invasive procedure where your surgeon will make a series of small cuts in the lower abdomen to access the bulging intestine. A laparoscope with a camera on the end will be inserted into one of the incisions, and the abdomen will be pumped with carbon dioxide to open space for the team to see inside the body. Your surgeon will cut the inner lining of the abdomen to access the affected area of the abdominal wall. A medical mesh is implanted around the weakened abdominal wall to cover the area and strengthen the tissue.
Open surgical repair for a hernia
Open hernia repair: During open hernia repair, an incision is made in the groin to find the bulging intestine. Your surgeon will move the hernia back into the abdomen.
What hernia repair surgery is best for me?
NGMC's hernia repair surgeons are experienced and highly skilled in open, laparoscopic and robotic hernia repair. They will evaluate your case to determine which option is best for you. We have been recognized nationally as both a Hernia and Robotic Center of Excellence by the Surgical Review Corporation. This means you can trust that our hernia surgeons have the highest level of technical skill and provide quality care.
What can happen if a hernia is not treated?
If left untreated, a hernia can lead to serious complications, including:
Bowel obstruction that causes severe pain, nausea or constipation.
Intestinal strangulation if the trapped section of the intestines does not get enough blood.
How much does hernia repair surgery cost?
Most commercial insurers and Medicare cover open, laparoscopic and robotic hernia surgery when the surgery is medically necessary. Generally, you will pay a percentage of care after your deductible is met.
Our financial counselors can help you determine the total cost out of pocket for robotic hernia surgery. Our experienced team of hernia surgeons will provide the highest level of care whether you choose open hernia surgery, laparoscopic hernia repair surgery or robotic hernia surgery.
Northeast Georgia Medical Center (NGMC) is a contracted "in-network" provider with a variety of managed care organizations. Visit the NGHS insurance page for a full list of in-network.
Do I need a referral for hernia repair?
While many insurance companies do NOT require a referral to see a general surgeon for hernia repair, some insurance companies do. If you are unsure if you need a referral, please call us. Our pre-registration teams will collect your insurance information and obtain the appropriate referral for you.
What COVID-19 safety precautions is Northeast Georgia Medical Center taking right now for hernia patients?
The Hernia Center at Northeast Georgia Medical Center (NGMC) consistently updates and follows the latest safety protocols to minimize COVID exposure risk when undergoing hernia repair surgery. Our team will be wearing masks throughout the process – from your initial appointment, through your surgery day, and at your post-op visit. We are also committed to using diligent hand hygiene and appropriate distancing when possible.
Northeast Georgia Medical Center is uniquely designed so that all outpatient hernia surgeries are performed on the second floor of the North Patient Tower. This means our hernia surgery patients will not enter the inpatient area where COVID patients are being cared for. Our patients come in the front door, go directly to the surgical area on the second floor, and are cared for in an area isolated from COVID patients.
If you are scheduled for surgery, you will have a pre-operative appointment approximately one week prior. During this appointment, you will undergo COVID testing. This is done to ensure that you are negative and to minimize the risk of spreading the virus to others you will encounter on the day of surgery.
If your surgery is elective (non-emergent), and you are positive for COVID-19, we will postpone your surgery for twenty days. If your surgery is emergent, our staff will use the utmost caution to ensure you are safe while also implementing additional safety protocols to help prevent the virus's spread to others.
On the day of surgery, we kindly request that you wear a mask. Your temperature will be checked, and you will be asked to fill out a health questionnaire. We are committed to keeping you and our teams safe and will revisit and revise protocols as the latest standards come out.
Hear Drs. Lewis and Copper discuss our safety precautions here:
Other commonly asked robotic hernia repair surgery questions
About Robotic Hernia Surgery:
What is the da Vinci Surgical System?
The da Vinci Surgical System is a tool that utilizes an advanced, robotic, computer, and optical technologies to assist your surgeon with your operation. It does not act on its own, and your surgeon controls its movements.
The da Vinci Surgical System has a 3D high definition (3D-HD) vision system, special instruments and computer software that allow your surgeon to operate with enhanced vision, precision, dexterity and control. The 3D-HD image is highly magnified, so your surgeon has a close-up view of the area he or she is operating on.
The da Vinci instruments have mechanical wrists that bend and rotate to mimic the movements of the human wrist – allowing your surgeon to make small, precise movements inside your body.
And, da Vinci software can minimize the effects of a surgeon's hand tremors on instrument movements.
Who is a candidate for robotic hernia surgery?
The most appropriate candidates for robotic hernia repair surgery are people who develop groin, incisional, umbilical or Hiatal hernias.
Groin hernia: A groin hernia is a bulge from a weakened muscle in the abdomen. A groin hernia is more common in men than in women.
Incisional hernia: An incisional hernia is a hernia that forms around a prior surgical incision in the abdomen.
Umbilical hernia: An umbilical hernia is a weakness that develops in the abdominal muscles in the belly button. This type of hernia generally occurs in babies.
Benefits of robotic surgery for hernia repair
The benefits of robotic hernia repair and laparoscopic hernia repair surgery over open surgery are similar.
Benefits of robotic surgery over open surgery for hernia repair include:
Smaller incision size
Less blood loss
Lower infection rate
Shorter procedure times
Smaller scars
Quicker return to daily activities and work
Less post-surgical pain (in many patients)
Benefits of robotic hernia repair compared to laparoscopic repair include:
Dexterity to reach previously inaccessible areas of the body
Improved range of motion; the robot's arms can rotate 360 degrees and are much more flexible than the human hand or wrist.
High-definition, magnified 3D images allow for improved visibility and accuracy.
What to expect after robotic hernia repair surgery?
You may experience:
Minor pain or discomfort for a few days after robotic hernia repair surgery
A mild fever
Fatigue
Nausea
Twinges or pulling in the affected area when you move
Most patients feel better within seven days.
Is robotic hernia surgery safe?
Robotic hernia surgery is a minimally invasive surgery that is generally safe; however, complications can occur with any type of surgery. Complications may include:
Infection
Recurrence of a hernia
Reaction to anesthesia
What to expect once you are scheduled for surgery:
How to prepare for robotic hernia surgery repair
Robotic hernia repair surgery will be performed under general anesthesia; therefore, you should not eat or drink anything after midnight on the night before surgery.
Your care team will outline what you need to do to prepare for surgery. Guidelines include:
Stop smoking
Lose weight – a healthy BMI is associated with decreased preoperative complications and risk of hernia recurrence
Diabetes – if you are diabetic, we recommend that your diabetes is controlled prior to surgery with an HbA1c < 7.0
How long is recovery after robotic hernia surgery?
The recovery period for patients who undergo robotic hernia repair surgery is approximately two weeks. This is compared to four to six weeks with open hernia surgery and three to four weeks with laparoscopic hernia repair surgery.
Do's and don'ts after robotic hernia surgery
Follow your doctor's instructions on what you should and should not do after robotic hernia surgery. Instructions include:
Get an appropriate amount of sleep.
Walk each day and gradually increase the distance you walk.
Avoid strenuous activities, such as jogging or weightlifting.
Do not drive until your doctor gives you clearance.
Wait until your doctor gives you the approval to shower – typically 24 to 48 hours after surgery.
Do not have sex until you have clearance.
Drink plenty of fluids.
Restart medicines following your doctor's instructions.
Take medications exactly as prescribed. Narcotic pain medication should only be taken if your pain is uncontrolled with non-narcotic pain medications such as Tylenol and Advil.
Leave the bandages and tape on the incision site until your doctor has given you instructions to remove it.
If you have staples along the incision sites, schedule an appointment with your doctor within one to two weeks to have them removed.
Wash the affected area daily with soapy water. Do not use hydrogen peroxide or alcohol.
Pre- and post-operative surgery instructions
Other common questions:
What is the difference between mesh vs. non-mesh surgeries?
Northeast Georgia Medical Center surgeons evaluate each case individually to develop the most appropriate treatment plan for each patient. Our surgeons are highly skilled at mesh and non-mesh repair techniques for hernias of all complexity.
In most cases, our surgeons use synthetic mesh for hernia repairs. Synthetic mesh is a safe medical mesh that is used in most hernia repairs. Multiple randomized clinical trials have shown that mesh is safe and is associated with a significant decrease in hernia recurrence compared to non-mesh repairs. Synthetic mesh is either absorbable or nonabsorbable
Mesh can also be made from either animal tissue that comes from the skin or intestines. Animal tissue mesh is absorbable.
The goal of the absorbable mesh using either animal or synthetic tissue is to reinforce the abdominal wall tissues and allow for natural tissue growth.
It is essential to choose a surgeon who has extensive training in hernia repair to close the abdominal wall tissues successfully.
If your doctor determines you need a no-mesh repair, your surgeon will use your body's tissues, which may reduce the risk of complications.
Learn more about the safety and efficacy of mesh hernia repair from the Americas Hernia Society.
What are the potential complications of hernia surgery?
While hernia repair surgery is generally very safe, complications can occur.
Complications may include:
Infection: While there is a small risk of infection with any surgical procedure, you are at higher risk if you have had an intestinal blockage or a strangulated hernia that leads to tissue death.
Recurrence of hernia: If the area undergoes strain during the healing process, a hernia can recur.
Bleeding: In a very small percentage of patients, bleeding can occur inside the incision. This can cause swelling and skin discoloration/bruising.
The risk of complications is higher if you are having emergency hernia repair surgery. Other factors that increase your risk for complications include older age, obesity, smoking, poorly controlled diabetes, or surgery that is performed for a recurrent hernia.
The Hernia Center of NGMC surgeons are highly experienced and have a complication rate that is significantly lower than the national average: <1% for inguinal hernias and approximately 8% for all ventral/incisional hernias. This is one of the reasons our Hernia Center has been certified as a Center of Excellence.
Talk to your doctor about your specific risks.
What if I have had hernia surgery before and need hernia revision surgery?
While the Hernia Center at NGMC surgeons have a low percentage of patients who require hernia revision after they have treated them, the team often sees patients who need hernia revision surgery. As many as 30% of patients nationwide experience a second hernia after an initial hernia repair. Our recurrence rates at the Hernia Center at NGMC are <1% for inguinal hernias and approximately 8% for all ventral/incisional hernias. Our surgeons can evaluate your individual case and offer potential repair solutions.
Causes for hernia recurrence could include:
Infection: Patients who had an infection that prevented the fascia and connective tissue from healing properly may need another surgery.
Fascial weakness: If the repair was performed in a weak area of the fascia, hernia revision surgery might be necessary.
Mesh use: Patients who experience chronic pain, infections, or any other mesh-related complications, may need to repeat hernia repair surgery.
Having hernia surgery or hernia revision surgery at a high-volume, nationally accredited institution is essential to ensure the highest quality care possible. Surgical Review Corporation recently recognized NGMC as the first in Georgia to become a Center of Excellence for Hernia Surgery. This recognition illustrates NGMC's commitment to providing proven, high-quality hernia care to patients.
Meet Our Hernia Surgeons
NGMC offers patients three SRC-designated Surgeons of Excellence for hernia repair:
Expertise
These surgeons participate in the Americas Hernia Society Quality Collaborative (AHSQC). The AHSQC is an elite nationwide group of surgeons sharing a unique commitment to improving the quality of care for patients who undergo hernia surgery.
Through the analysis of more than 65,000 hernia surgeries so far, the AHSQC provides best practices, decision support, care pathways, and ongoing performance feedback to participants and partners. Tracking surgical cases since 2013, the collaborative group has grown to include more than 425 surgeons of varied experience.
Request an appointment
To request an appointment, please call our scheduling coordinator at 770-219-4040 or use the form on this page.