Carol Burrell
President and CEO
BS in Medical Technology, Emory/Georgia Southern
MHA – Health Care Administration, Central Michigan University
Responsible for all health system operations including clinical, support and human resources, facility and construction projects, physician practice management
---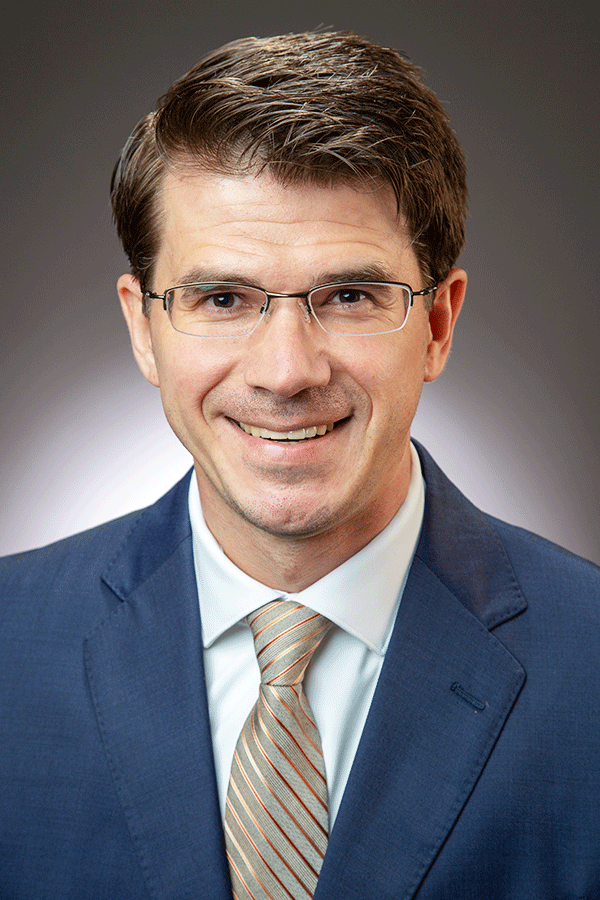 Andrei Boyarshinov
Chief Legal Officer
Juris Doctor, University of Florida
Responsible for integrating legal strategy throughout the health system's operations, proactively working in concert with multiple constituencies including physician leadership and administration to assure regulatory compliance and making legal expertise a competitive advantage.
---
Chris Bray
President and CDO, Northeast Georgia Health System Foundation
BA in History and Political Science, University of South Florida
Certified Fundraising Executive (CFRE)
Responsible for all philanthropic programs supporting Northeast Georgia Health System.
---
Michael Covert
Chief Operating Officer
BS, MHA, Washington University
Responsible for administrative and operational functions of our acute care facilities.
---
John E. Delzell, Jr., MD
Designated Institutional Official, VP Medical Education
MD, MPH, University of Missouri
Responsible for oversight and administration of all aspects of NGMC's GME program, including compliance with all specialty, subspecialty and institutional requirements of the Accreditation Council for Graduate Medical Education (ACGME).
---
Elyse Gates
Vice President, Revenue Cycle
BS in Psychology, University of Florida
Responsible for overseeing Revenue Cycle for the Health System, which includes: patient access, centralized scheduling, patient financial services, system patient receivables, physician central billing office, health information management, physician and hospital coding, physician and hospital charge capture and utilization management.
---
Roy Griffin
Vice President, Financial Operations
BS in Accounting, Alabama State University
MACC, University of South Florida
MBA, University of Tampa
Responsible for financial planning, budgeting, and decision support services
---
Steve Kelly
Chief Compliance Officer
JD, University of Pittsburgh
Postgraduate Law Degree in Health Law, Loyola University of Chicago
Responsible for ensuring compliance with changing healthcare trends, guidelines, laws and government regulations.
---
Kevin Matson
Vice President, Facilities, Support Services and Oncology
BBA, Brenau University
MHA, Ohio University
Responsible for Facilities Engineering, Environmental Services, Food and Nutrition Services, Security and Emergency Management
---
Sonja McLendon
Chief of Operational Excellence
BS in Biology, University of North Carolina
MEd, Sports Medicine, University of Virginia
MBA, University of South Carolina
FACHE, Fellow, American College of Healthcare Executives
Responsible for overseeing continuous improvement efforts including developing standard work, deploying breakthrough strategies, executing A3 problem-solving, applying lean methodology and enhancing daily visual management.
---
Steve McNeilly
Vice President, Managed Care & Integration Strategies
BA, University of North Georgia
MBA, Brenau University
Responsible for value-based contracting, the Health Partners network and continued development of a new network – called HP2 – with area physicians/providers as they explore innovative strategies for alignment with payers and employers.
---
Chris Paravate
Chief Information Officer
BS in Business Operations, DeVry Institute of Technology
MBA, Brenau University
Certified Professional in Healthcare Information and Management Systems (CPHIMS)
Project Management Professional (PMP) certification
---
Antonio Rios, MD
Chief of Population Health
Medical Degree: La Salle University, Mexico
Fellowship: Emory University in Atlanta
---
Habib Samady, MD
Heart & Vascular Clinical Service Line Leader, Northeast Georgia Medical Center
MD, University of Sheffield, England
Residency, University of Connecticut School of Medicine in Farmington, Connecticut
Fellowship, Yale University in New Haven, Connecticut
Responsible for overseeing all clinical and administrative operations of NGMC's Heart & Vascular Service Line, which includes ensuring clinical quality, streamlining patient care and advancing services.
---
Brian Steines
Chief Financial Officer
BSBPA in Accounting, University of Arizona
MBA, University of Phoenix, Arizona
Responsible for financial planning, reporting, investments, capital formation, treasury, risk management, internal audit, managed care and Health Partners (PPO Network)
---
Daniel Tuffy
President & CAO, Northeast Georgia Physicians Group
BS in Health Services Administration, University of Central Florida
MBA, Webster University
---
Melissa Tymchuk
Chief of Staff to the President and Chief Executive Officer
BA, University of Georgia
ABJ, University of Georgia
MBA, Brenau University
System Responsibility for Board Governance and Senior Project Coordination
---
Tracy Vardeman
Chief Strategy Executive
BS in Business Administration/Marketing and Management, Shorter College
MBA, Georgia State University with study emphasis in health administration
Responsible for guiding strategic planning and marketing efforts for the Health System
---
Tina Walden
Vice President, Heart & Vascular Services
BS in Management Studies, University of Maryland
MBA, Brenau University
---
Anthony Williamson
Southern Market Leader and President, Northeast Georgia Medical Center Braselton
MBA, University of Florida
MHS, University of Florida
BS, Florida State University
CHE, Certified Healthcare Executive
FACHE, Fellow, American College of Healthcare Executives
Responsible for overseeing continuing development of Northeast Georgia Medical Center Braselton and strategic market oversight for the greater Braselton and Barrow service area
---
Bedri Yusuf, MD
Chief Physician Executive, Northeast Georgia Physicians Group
Medical Degree: Addis Ababa University, Ethiopia
Residency: Leipzig University, Germany and Atlanta Medical Center
MBA: University of Massachusetts Amherst
---
Contact Us
If you have any concerns about patient care and safety at NGMC, or any of its facilities that are not addressed to your satisfaction, please contact us using the methods provided here.